Victims of Propaganda
How Should We Consider Those Who Aired Hatred Towards Unvaccinated?
I was greeted this morning by a Tweet reminding me of the pure vitriol, contempt, and threats of reprisal for the "unvaccinated" those who made the wise choice of declining COVID-19 vaccination. Remember the novel vaccines were originally Pfizer, Moderna, and Janssen. All were genetic with no data on how long the genetic code would stay in the body, how long the lethal Spike protein would be produced, and with no assurances that the vaccine would protect against severe outcomes including hospitalization and death. The real victims of vaccine propaganda were those who rolled up their sleeves.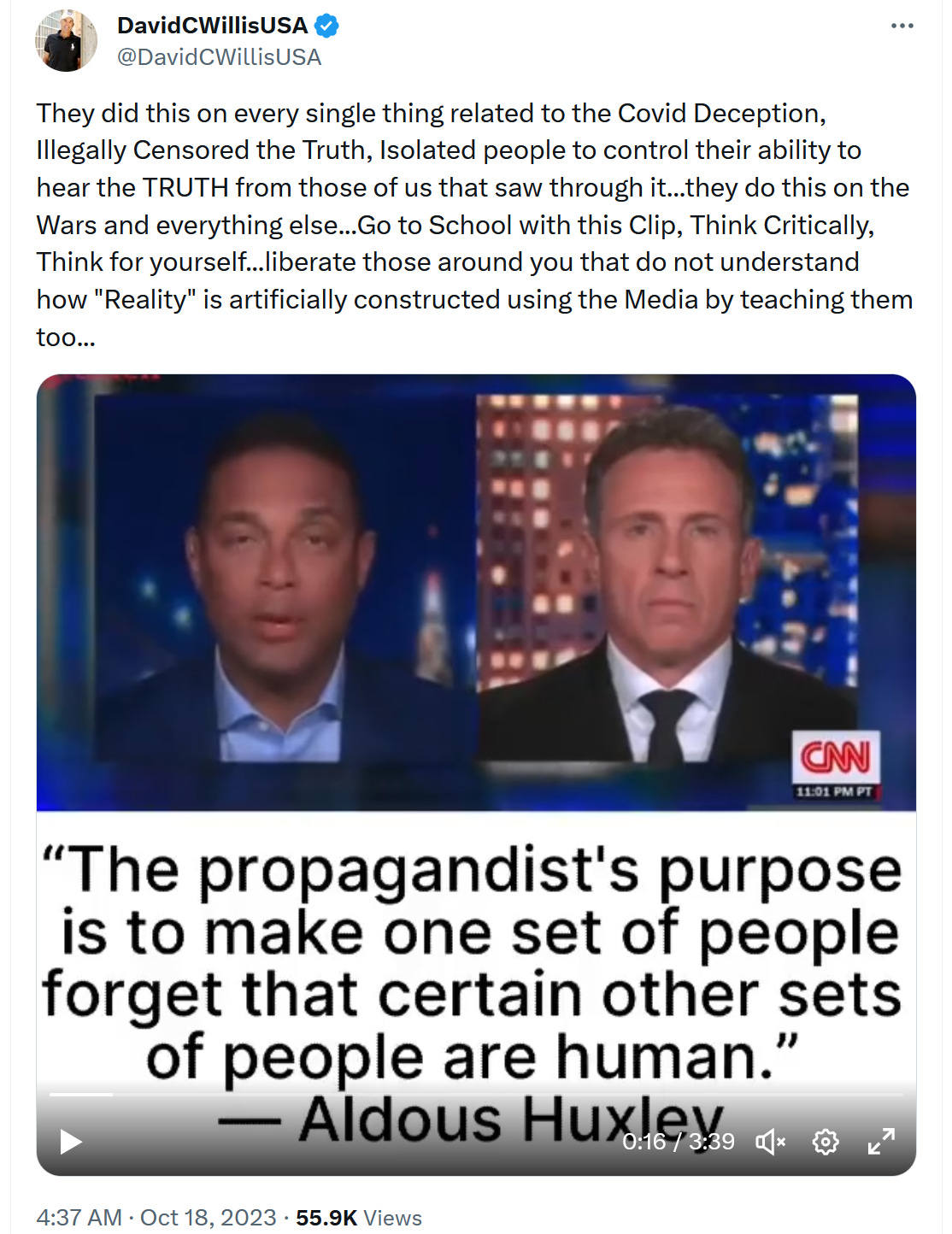 Click to play COVID-19 vaccine media hatred for unvaccinated montage.
I responded with a perspective from clinical practice: "Everyday without prejudice or malice I take care of vaccinated with neuropathy, blood clots, heart damage and help families cope with vaccine cardiac arrest. I don't blame them for their unhinged, hateful propaganda—they are the ones sick and dying not the unvaccinated."
At this time there are no apologies, no requests for forgiveness from media anchors. So many people around the world were victims of an effective PSYOP engineered by the Bio-Pharmaceutical Complex and facilitated by the group psychological phenomenon of mass formation psychosis. If those spewing propaganda said they took the vaccines, we should believe them. If they are not telling us they are on their ninth shot by now, we should assume they are declining any more injections in quiet, shameful regret.
In clinical practice we are seeing new blood clots and hearing about cardiac arrests two years after the initial series of mRNA vaccines in 2021. More disease will occur in the now silent, vaccinated. Each person who propagandized and was in the mass formation themselves, evidenced by their personal vaccine card, will have to reconcile the unwise health choice of getting injected with pseudo-uridinated synthetic genetic code, loading their bodies with long-lasting viral Spike protein engineered in a Chinese biosecurity lab.
I have not found a single vaccinated person who is declining Base Spike Detoxification with the combination of Nattokinase, Bromelain, and Curcumin.
This DailyClout article is the writer's opinion.
One of our country's most important freedoms is that of free speech.
Agree with this essay? Disagree? Join the debate by writing to DailyClout
HERE.